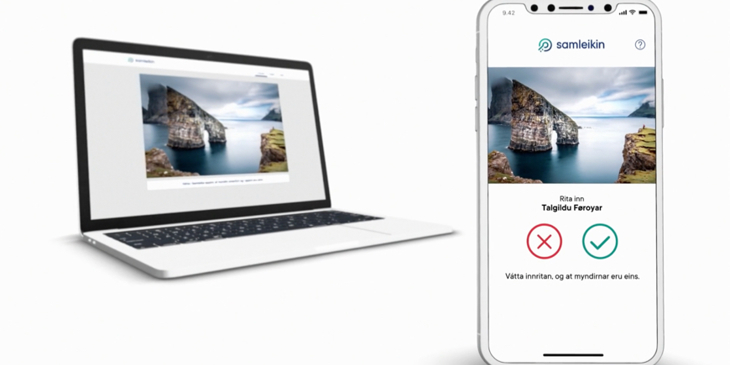 Get Samleikin with a foreign passport
People with foreign passports can now register for Samleikin in the app.
If your passport is from another country than the Faroe Islands or Denmark, you need a witness to confirm your identity.
Below you can read more about how you get Samleikin with a foreign passport.
Step 2: Witness Statement
When applying with a foreign passport online, you also need a witness to confirm your identity.
The witness must have a Faroese/Danish passport or driver's license, have a P-tal and be older than 18 years old.
The witness can submit the statement by Mínboks or hand it in at Staravegur 9 in Tórshavn. If the witness sends it by Mínboks, the receiver is Mínboks. See how you can send emails with Mínboks in the link below
You can find the statement in the link below. Please remember to sign it before subitting.
Step 3: Book a video meeting
After you have sent in your application, call our service desk at 1881 (+298 351881) and book a video meeting.
Please make sure that the witness submits in the statement before you book the video meeting. We are not able to have the meeting before receiving all documentation.
We will send you an email with a Teams link for the meeting. Please follow the instructions in the email.
The meeting will be held in English or Scandinavnian. If you do not speak these languages, please make sure to have a translator with you. If the translator is not on location with you, please send them the Teams link for the meeting.
Step 4: Activate Samleikin
After the meeting, we will process your application. This can take 1-3 workdays. You will be notified when Samleikin is ready to be activated.