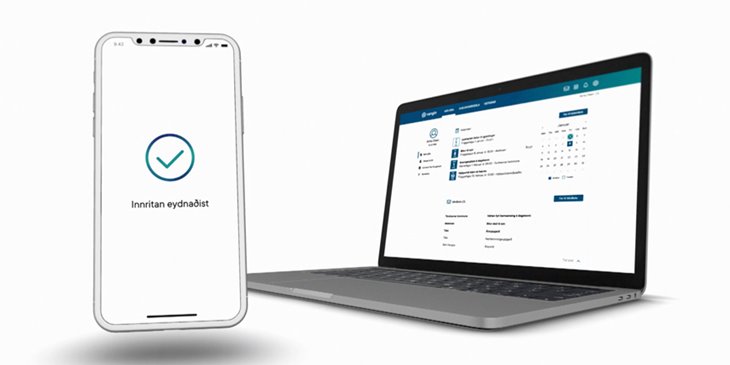 Help
Below you will find instructions to use Samleikin as app and USB stick.
To get help using Samleikin you are welcome to contact user service.
Call us on telephone number 1881 or by email 1881@talgildu.fo
Service desk is open workdays from kl 08.00 to 16.30.
Your PIN is not registered anywere. If you forget your PIN, you have to register Samleikin again.
Please go to settings and choose 'Delete Samleikin' before ordering Samleikin again.
Please remember your PIN and do not share it with others.
You have to register to use Samleikin. You can register in the app or in person by visiting our service desk at Staravegur 9, Tórshavn. Remember to bring your ID. Passport or faroese and danish driver's licences are approved as ID.
In order for Samleikin to notify directly in the app, your phone has to approve notifications, see instructions in the link below.
(Fráboðanir frá appini)
Go to the app or website that you want to log in to, f.x. vangin.fo
Press login and enter your PIN
A picture will be shown on the login screen and Samleikin is activated
Confirm in the app, that the picture in the app and on the login screen are the same
Enter your personal PIN in Samleikin app
You have completed the login
Samleikin can be used to log in to digital services from service providers using Samleikin. An overview of service providers can be found by following the link below.
See video instructions on how to log in.
Transfer Samleikin to another device
It is possible to transfer Samleikin from a former device to the other, in case you need to replace your phone or tablet. Before transferring Samleikin, you have to make sure to download Samleikin app on both devices.
Go to settings in Samleikin app
Press "Transfer Samleikin" and follow the instructions listed in the app
Samleikin can be used on one device at the time.
Good advice to create PIN
It is very important to create a good and safe PIN. Your PIN secures your information and your privacy.
Your Samleikin PIN has to be six numbers. We recommend you avoid
Series of numbers such as 123456 or 987654
Your own or your children's birthday
Your phone number
The PIN must be easy to remember, but difficult to guess. Your PIN is private and secret and must not be shared with others.
Your Samleikin PIN should be as secret as your credit card PIN.
Do not write down your PIN.
Samleikin is your digital ID, so you should manage it as you would with a passport.
Samleikin is stored on your device. Do not let others access your Samleiki. Samleikin is personal.
Choose a PIN that is easy to remember, but difficult for others to guess. Memorize your PIN, because you will have to use it every time you log in with Samleikin.