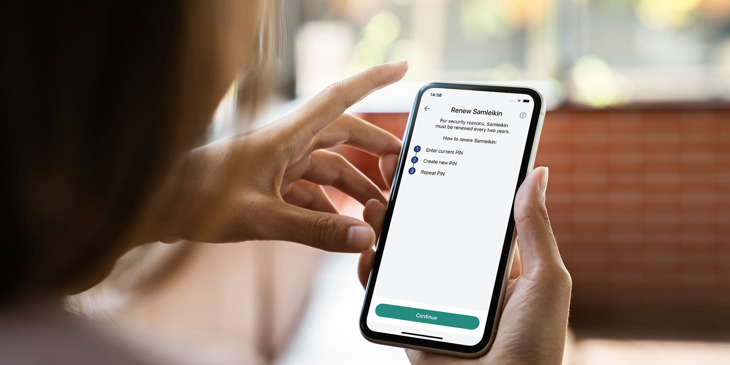 Renew Samleikin
Your Samleikin must be renewed every two years.
Samleikin has a validity of two years, and you must renew it before it expires.
If you do not renew Samleikin, it will be made inactive and you can not use it without registrating it.
Renew Samleikin in the app
If you have Samleikin on a USB, you have to renew it by meeting up personally at our service desk at Staravegur 9 in Tórshavn.
Call us on phone 1881 beforehand to book an appointment to renew Samleikin.
Our opening hours are weekdays from 8 to 16.
Make sure to bring your USB and a valid ID (Faroese/Danish passports and driver's license) for renewing Samleikin.
On Vangin you can see when your Samleikin exspires, see the link below
When does Samleikin expire?
Samleikin expires two years after it is registered.
Go to Settings in Samleikin app and choose My Samleikin. Here you see the validity of your Samleikin.
On Vangin you can also see an overview of your Samleikin, usage, documents and events. See the link below
What happens if you do not renew Samleikin
If you do not renew Samleikin before the expiration date, Samleikin will be made idle. You must register Samleikin again before you can use it.
Everyone who uses Vangin will receive a notification in the calender on Vangin when the expiration date of Samleikin is approaching the end.